Producing cutting-edge solutions that offer unrivalled value, XP-Pen provides fantastic graphics tablets for today's creatives
XP-Pen : INFINITE POSSIBILITIES
Founded in Japan, XP-Pen has been developing graphics tablets since 2005. They believe that their products should adapt to the needs of their clients, not the other way around.
In the past decade, XP-Pen products have seen great success in Korea, Hong Kong, Taiwan and Japan. Modus Brands are assisting their expansion into the UK and beyond to Europe. Their goal is to bring artists around the globe into the digital age with the specific technology to match their needs.
PROFESSIONAL GRADE GRAPHICS TABLETS
XP-Pen have made great strides in tablet technology; From experimenting with battery-free styluses to fitting high definition, wide-gamut colour, touch sensitive displays in slimline devices.
The latest tablets offer 60 degrees of pen tilt, perfect for shading artwork without switching tools. Such product highlights are no longer the reserve of their high end items. Even their entry level products offer 8192 levels of sensitivity, over twice that of other comparable tablets, resulting in superior control and stunning fluidity.
INCLUSIVE INNOVATION
XP-Pen offer functionality rivalling and indeed surpassing that of leading brands in the industry (including giants, Wacom) at prices more manageable to consumers and students alike. Providing innovative sensor technology and excellent support to this growing audience has resulted in a worldwide fan base for the brand.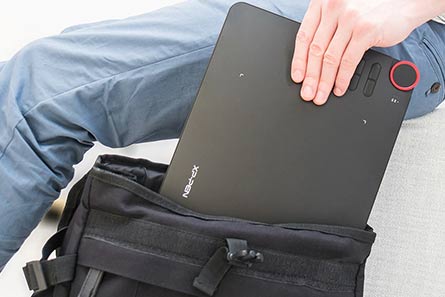 PORTABLE DEVICES FOR MOBILE PROFESSIONALS
Hosting a busy online forum 'Xfans', XP-Pen actively listen to their customers, integrating their feedback into new product lines. Courting a younger generation of professionals to provide solutions that fit their lifestyle and workflow.
The Deco range of portable tablets is a great example of this. USB powered, this group of tablets are small enough to stow in a backpack alongside a laptop; Ideal for contractors and creative artists that travel frequently.
DISTRIBUTION SPECIALISTS FOR GRAPHICS TABLETS
Noting our extensive experience in the photography sector, XP-Pen have paired with Modus Brands as a preferred partner for the UK.
Modus Brand is perfectly placed to help peripheral vendors gain purchase in the UK market. Looking for promising new tech, our team in North America has already brought up-and-coming West-coast brands Gnarbox and Omnicharge to the UK and will continue targeting similar tech hotbeds.
Our offices worldwide provide the global reach needed to connect with upcoming products. Fluent in emerging technologies, you can be confident in dealing with us, experienced distributors in the electronics sector, dedicated to providing hardware for both professionals and amateurs alike.