Creating innovative, entertaining and safe solutions for personal mobility, InMotion are on track to get the planet moving
AWARD WINNING
InMotion's story began in 2007, where a small team competed and won 'RoboCup' , an annual international robotics competition attracting some of the best minds in robotics from across the globe. Leveraging their expertise in robotics and vehicle dynamics the team turned their focus toward personal mobility solutions.
From founding their headquarters in Shenzhen back in 2012, Inmotion has since continued to grow, developing robotics and sensor-controlled vehicles, evolving their ever advancing line of transportation products. This is evidenced through multiple Red Star Design and IF Design awards presented over the past years.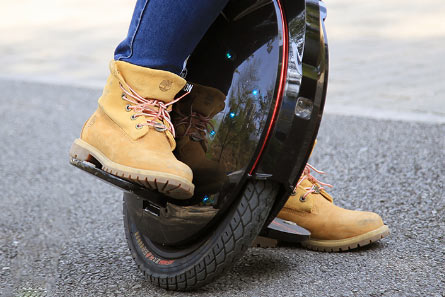 TRANSPORT INNOVATORS
InMotion aims to innovate across sectors, looking to create lightweight, convenient and highly portable personal transportation devices for customers of all ages and abilities worldwide. It is the breadth of InMotion's offering that really makes them unique, their product line including folding electric scooters, electric unicycles, hoverboards, electric skateboards, E bikes and more.
For example, years of development and product evolution has earned them a leading position in the electric unicycle sector, being one of the first manufacturers to innovate with suspension in a self-balancing wheel. Beyond this, they have re-imagined hoverboards so they can now be used to transport parcels alongside people. Further evolutions are evident in their latest line of folding electric scooters. These now sport front and rear suspension, automatic turning lights and twin-adapter fast charging hardware.
MASS MOBILISATION
InMotion's innovations are the product of their desire to provide mobility for people of all ages worldwide. Mixing electric scooter technology with e-bike design and self-balancing sensored transporters results in new niche solutions. These hybrid creations blur the lines between device types, lowering barriers of entry for inexperienced first time users.
IN TUNE WITH THE MARKET
InMotion have demonstrated a good understanding of western expectations, targeting products to address the differences and localised expectations of such audiences.
A recent indiegogo campaign for the L9 proved incredibly successful, the crowdfunding platform leveraged to generate sales but more importantly to maximise exposure of the new electric scooter.
MODUS BRANDS : TRANSPORT SPECIALISTS
Perfectly placed to help vendors gain access to the UK market, InMotion were happy to partner with Modus Brands. With years of experience importing e-mobility products, Modus has the expertise to empower retailers to benefit in the burgeoning e-mobility category.
Our offices worldwide continue to provide the global reach needed to connect with their upcoming products. Well-versed in micro-mobility, you can be confident dealing with us, experienced distributors in the personal transport sector.
Modus Brands have vast experience in their market which has allowed us to quickly gain market-share and expand our business